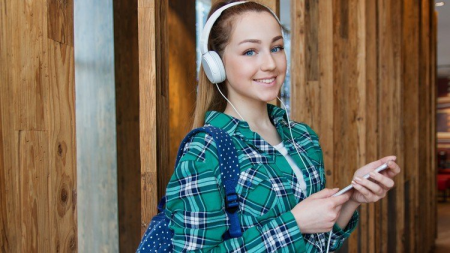 MP4 | Video: h264, 1280x720 | Audio: AAC, 44.1 KHz, 2 Ch
Genre: eLearning | Language: English | Duration: 21 lectures (3 hour, 20 mins) | Size: 2.46 GB
Start Spanish From Fundamentals.
What you'll learn
Learn Spanish from A,B,C,D and reached to Z.
Learn Spanish from common phrases in daily life.
The ability to introduce yourself, ask questions, and converse in a variety of everyday situations.
Learn Complete Grammar In Spanish.
Learn Vocabulary In Spanish.
Learn Regular Verb, Irregular Verb and conjugation of verbs.
Requirements
there in no any course requirements or prerequisites?
Description
1 BENEFITS OF LEARNING SPANISH
2 ABCD IN SPANISH
3 GREETINGS IN SPANISH
4 ARTICLES IN SPANISH-BASIC
5 WEEK NAMES IN SPANISH
6 BASIC PRONOUNS IN SPANISH
7 MONTHS NAME IN SPANISH
8 COUNTING IN SPANISH
9 SAME WORDS IN SPANISH AND ENGLISH
10 PRESENT SIMPLE TENSE
11 SER AND ESTAR IN SPANISH
12 ANIMAL NAME IN SPANISH
13 CONTINUES TENSE
14 COLORS NAME IN SPANISH
15 PRESENT PERFECT TENSE IN SPANISH
16 FRUITS NAME
17 FUTURE TENSE
18 GAMES OR SPORTS NAME
19 PREPOSITIONS IN SPANISH
20 OCCUPATION OR PROFESSION IN SPANISH
21 POR VS PARA
22 PARTS OF BODY
23 ARTICLES IN SPANISH -DEPTH
24 RELATIONSHIP
25 GENDER IN SPANISH
26 WEATHER
27 IN SPANISH
28 DAILY USE WORDS IN SPANISH
29 DESCRIPTIVE ADJECTIVE
30 VABLE AND FOOD ITEMS
31 POSSESSIVE ADJECTIVE
32 AL-TO-AL-CHAG-WORDS
33 SUPERLATIVE ADJECTIVE
34 BLE TO BLE CHAG WORDS
35 NATIONALITY ADJECTIVE
36 CT-CHANGE-TO-CTO-WORDS
37 RELATIVE ADJECTIVE AND NEGATIVE WORDS
38 IC-TO-ICO-CHAG-WORDS
39 COMPERISION OF EQUILITY AND INEQUILITY
40 ID-TO-IDO-RY-RIO-WORDS
41 DEMONSTRATIVE ADJECTIVES
41.1 LIMITING ADJECTIVES
42 LY-TO-CHANGE-MENTE-WORDS
43 MENT TO CHANGE MENTO WORDS
44 ADVERBS IN SPANISH
45 NCE-CHANGE-TO-NCIA-WORDS
46 CONJUNCTIONS IN SPANISH
47 NT-TO-NTE-CHAG-WORDS
48 PH-ANT-IFY-IVE-ENDING-MEANING
49 PAST TENSE IN SPANIHS-1
50 SION TO SIóN CHAG WORDS
51 PAST TENSE IN SPANISH-2
55 TY-DAD-chag words
53 CONDITIONAL TENSE
54 Y TO IA chag words
55 DEMONSTRATIVE PRONOUNS IN SPANISH
56 TION TO CION CHAG WORDS-PART-1
57 POSSESSIVE PRONOUNS
58.1 PREPOSITIONAL PRONOUNS
59 TION TO CION CHAG WORDS-PART-2
60 RELATIVE PRONOUNS
61 TION TO CION CHAG WORDS PART-3
62 DIRECT OBJECT PRONOUNS IN SPANISH
63 SPANISH VOCABULARY
64 INDIRECT OBJECT PRONOUNS IN SPANISH (NOT NUMBER)
65 VERBS
66 AR ENDING VERB
67 ER ENDING VERB
69 IR ENDING VERB
70 IRREGULAR VERBS
71 REFLEXIVE VERBS
72 THE IMPERSONAL AND PASSIVE SE IN SPANISH
73 DIFFERENCE BETWEEN ANDAR CAMINAR AND PASEAR
74 DIFFERENCE BETWEEN IR IRSE SALIR DEJAR
75 SABER VS CONOCER
76 TIEMPO VS HORA VS VEZ
77 CALIDAD VS CUALIDAD
78 INTRODUCIR VS PRESENTAR
79 SUBJUNCTIVE VS INDICATIVE VS IMPERATIVE
80 E-TO-IE-STREAM-CHAG-IRREGULAR-VERB
81 SPANISH PRESENT SUBJUNCTIVE
82 E-TO-I-STREAM-CHAG-IRREGULAR-VERB
83 O-TO-UE-STREAM-CHAG-IRREGULAR-VERB
84 SPANISH PRESENT PERFECT SUBJUNCTIVE
85 PREFIX-IRREGULAR-VERB
86 SPANISH FUTURE SUBJUNCTIVE
87 SPANISH IMPERATIVE MOOD
88 IN FORMAL TU AFFIRMATIVE AND NEGATIVE COMMAND
89 FORMAL AFFIRMATIVE AND NEGATIVE COMMANDS
90 INDIRECT COMMANDS OR QUE COMMANDS
91 NOSOTROS COMMANDS
92 OIR VS ESCUCHAR
93 VER VS MIRAR VS BUSCAR VS REVISAR VS OBSERVAR VS FIJARSE
94 COMENZAR VS EMPEZAR
95 ACORDAR VS RECORDAR VS ACORDARSE
Who this course is for:
Anyone with little to no knowledge of Spanish.
People looking for a quick, complete course to refresh their Spanish skills.
Anyone traveling or moving to a Spanish speaking country and needs the basics to be able to get around, pay for things, order food, etc.
Anyone looking for the easiest, most pain-free way to learn Spanish.
Who this course is for:
everyone can learn Spanish
DOWNLOADuploadgigrapidgatornitroflare
Уважаемый посетитель, Вы зашли на сайт как незарегистрированный пользователь. Мы рекомендуем Вам зарегистрироваться либо войти на сайт под своим именем.