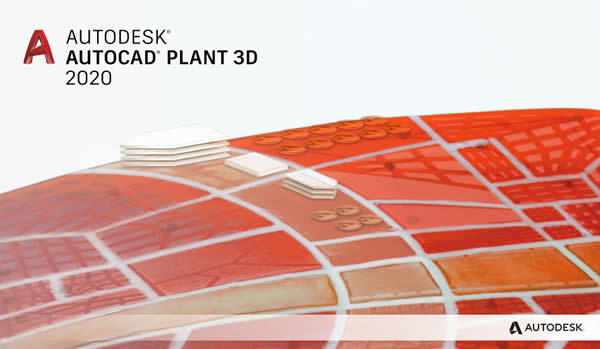 File Size : 1.1GB
Many users of "vertical" AutoCAD products have noticed that recently, any AutoCAD product with advanced functionality consists, in fact, of AutoCAD as the basis and add-on for Mechanical, Electrical, Architecture, etc. Alas, developers, as before, have only full-size distributions
System requirements:
- Pre-installed Autodesk AutoCAD 2020 with an interface language identical to the language of the installed Plant 3D Addon
- 64-bit version of Microsoft Windows 7 SP1 with update KB4019990, Windows 8.1 with update KB2919355, Windows 10 (1803 or higher)
- A processor with a clock frequency of 2.5-2.9 GHz (3 GHz or higher recommended); application supports multi-processor
- 8 GB of RAM (16 GB recommended)
- Video adapter with 1 GB of video memory, bandwidth of 29 GB / s (4 GB and 106 GB / s recommended) and support for DirectX 11
- Screen resolution 1920x1080 with the color palette True Color. Windows 10 supports resolutions up to 3840x2160
- 8 GB of free disk space
- Google Chrome
- .NET Framework 4.7.2
- MS SQL Server (Express, Standard or Enterprise) 2008 with SP1 or higher
Optional for 3D modeling and large data volumes
- At least 8 GB of RAM
- 6 GB of free disk space (not counting the space required for installation)
- A video adapter of a class of workstations with a memory of at least 128 MB, supporting a screen resolution of at least 1920x1080, with support for full color True Color, Pixel Shader 3.0 or later and Direct3D
That is, if you want to get Mechanical and Architecture, then you are forced to download two huge packages, most of the contents of which duplicate each other. In this regard, I decided to start releasing distributions of a new type containing only an add-in. Now, to install all the same Mechanical and Architecture, you will need to download the basic AutoCAD and two small add-ons. Download less, store more compactly - this is the main idea of ​​assemblies of this format!
AutoCAD Plant 3D is used for the design of technological equipment, pipelines and instrumentation of industrial enterprises, as well as for the release of documentation. At the disposal of technical designers and constructors - the ability to create the most advanced 3D-projects in the familiar AutoCAD environment.
Design capabilities based on technical requirements and a library of standard components allow you to optimize the design and layout of pipelines, process equipment and support elements. Built-in AutoCAD P&ID functions allow you to create and edit piping and instrumentation diagrams, and then coordinate the data with the 3D model. Based on the 3D model, you can create isometric and orthogonal views of drawings.
Functionality
Cloud based collaboration
General access to projects and the ability to invite other users to participate in joint projects.
Instrumentation Support
Place instrumentation directly from the instrumentation palette in the same way as piping components.
Backup Projects
Easily create local backups of projects.
Search in the project manager
Faster and more convenient search for project files.
Vault Enhancements
Improved integration with Vault data management software.
Isometric Drawing Enhancements
Added tools that improve the representation of asymmetric lines in the isometry of pipelines.
Enhanced 3D Graphics Performance
This toolkit provides all the advantages of hardware graphics acceleration, which significantly increases productivity.
Simplified Workflows
Many project teams in the Project Manager support a context menu. Due to this, work processes, in particular, changing the specifications of pipelines, are faster and easier.
Color options for piping and instrumentation
Display color lines and components based on property values.
Mini catalogs of piping schemes and instrumentation
Checking the consistency of pipeline specifications in piping and instrumentation schemes
Improvements in interstitial connection in piping and instrumentation schemes
Support for data consistency between technological processes and instrumentation and control lines in instrumentation circuits.
Checking the data of piping schemes and instrumentation
Piping and instrumentation are tightly integrated with the AutoCAD Plant 3D instrumentation model.
Build Features
The assembly is based on the original Russian and English distributions combined into a single package, from which everything that is not directly related to the installation of the Plant 3D add-in is removed.
The installation package integrates AutoCAD Plant 3D 2020.1 Update.
The assembly is relieved of some problems that arise when, when connecting an image via a virtual drive, the installer sometimes required a different drive.
Everything necessary for treatment, including detailed instructions, is located inside the image in the Crack folder.
Treatment procedure
Install Plant 3D Addon for Autodesk AutoCAD 2020.
ATTENTION! This is just an add-on. For her to work on the computer must be a mouth
DOWNLOADuploadgigrapidgatornitroflare
Уважаемый посетитель, Вы зашли на сайт как незарегистрированный пользователь. Мы рекомендуем Вам зарегистрироваться либо войти на сайт под своим именем.